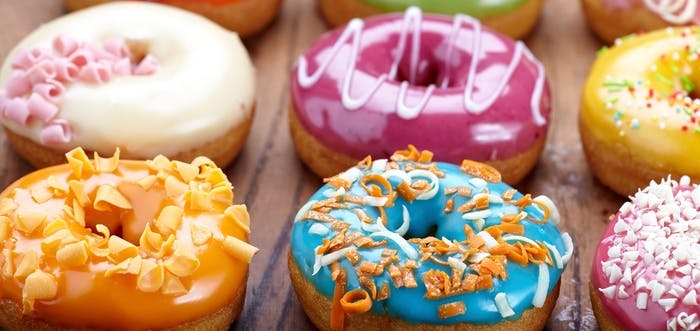 Sugarcoated Lies

"Yes, I know.
I know those doughnuts are tempting. All those colourful sprinkles. The cream filling.
The Glaze! The glorious Glaze!
And on top of all that: They're free - someone brought them into work and left them right here. Right in front of me. Surely, this must be some sort of sign, some kind of miracle, right? I mean: Food is food and if it's free then I pretty much need to eat it. It would be ungrateful for me to say no. Right? Right?
WRONG. DEAD WRONG.
Those doughnuts aren't food.
THEY ARE POISON.
Same with the chocolate chip cookies, the double chocolate cake, the can of pop, the bag of crisps and the Domino's pizza. All that junk isn't food. It doesn't fuel you. It kills you. It literally kills you. It isn't going to make you stronger, faster, healthier, smarter or better. It's going to do the opposite. And you know this. You know that you
DO NOT NEED ANY OF THAT JUNK.
"But it's the only choice"
WRONG.
Unless you have gone an extended period of time without food, you don't need to eat. And you definitely don't need to eat that poison.
YOU DON'T NEED TO EAT.
You don't even know what hungry is. Humans can go thirty days without food. You can make it. So. When those foods are tempting you, calling your name and enticing you with their SUGARCOATED LIES - get angry. Get aggressive. Stand your ground in the battle and fight by saying NO. HOLD THE LINE. Hold the line for your health, your mental toughness and to exercise your WILL - which, I promise, is stronger that the will of a doughnut - if you want it to be. HOLD THE LINE."
(Jocko Willink, Discipline Equals Freedom Field Manual, 2017, pg. 44)